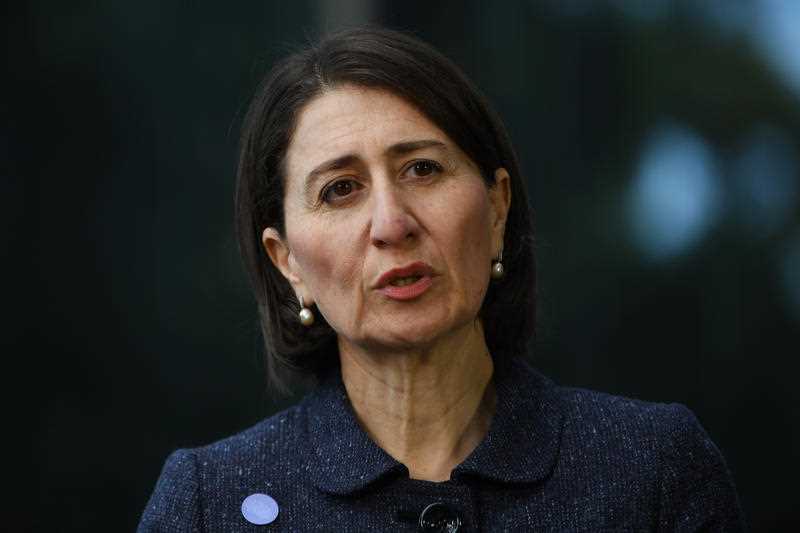 The NSW Premier Gladys Berejiklian (pictured) has warned the number of COVID-19 cases in the state will inevitably rise as restrictions on house visits are eased (AAP Image/Dean Lewins)
The NSW premier has warned the number of COVID-19 cases in the state will inevitably rise as restrictions on house visits ease from the end of the week.
A maximum of two adults will from Friday be permitted in NSW to visit another household for social or care reasons, with children permitted to come along.
Thanks to everyone for sticking to the rules. From Friday, 2 adults (& any dependent children) are able to visit another household to reduce social isolation. Pls be extra careful when visiting those over 70. Don't leave home if you have symptoms & continue to socially distance. pic.twitter.com/EzCTArn99X

— Gladys Berejiklian (@GladysB) April 28, 2020
The measure fulfils the state government's earlier promise to reassess restrictions at the end of each month. Plans for students to resume face-to-face schooling from May 11 have already been announced, while an uptick in NSW retail activity is also expected.
NSW Premier Gladys Berejiklian on Tuesday admitted health authorities expected the changes to increase the number of new COVID-19 cases but said hospitals had bolstered their capacity throughout April and sourced extra protective gear.
Those aged over 70 should continue to remain at home as much as possible.
Ms Berejiklian nevertheless said the government would not seek to limit the nature of visits and that social interaction was good for mental health.
Physical distancing measures and hand washing remain crucial.
Coronavirus Restrictions - NSW: "From May 1st, on Friday, 2 adults will be able to visit anybody else in their homes on the basis of care, reducing socialisation and everybody's mental health" - @GladysB - NSW Premier. https://t.co/IzhX02kpnY #7NEWS pic.twitter.com/FwJKffLJkb

— 7NEWS Sydney (@7NewsSydney) April 27, 2020
"I anticipate that in May, it won't just be a handful of new cases we get every day because when you've got this increase in activity, unfortunately you will see a rise in the number of cases," Ms Berejiklian told reporters.
"That's why we took time in April whilst we had those restrictions to beef up health supplies, capacity in hospitals to deal with extra cases, but also to learn from the data we've had.
"That's definitely the headspace we're in - what can we lift? When is it a safe time to lift them? What can boost jobs? That's a priority for us."
Ms Berejiklian added that return-to-school measures could be accelerated if the first two weeks of face-to-face learning from May 11 go smoothly.
A seventh person at the Newmarch House aged care facility in Sydney's west, meanwhile, has died after contracting coronavirus, taking the NSW death toll to 37.
Operator Anglicare said the 89-year-old female resident died on Monday night.
"This coronavirus pandemic has been unprecedented in terms of its scale and impact across the world. But more importantly we know what a devastating effect it is having on older people," Anglicare chief executive Grant Millard said in a statement.
COVID-19 was introduced to the Caddens facility by an aged care worker who worked for six consecutive days while suffering very mild respiratory symptoms.
Some 54 residents and staff members at Newmarch House have COVID-19.
NSW recorded five new COVID-19 cases on Tuesday, taking the state total to 3009. Some 19 people are in intensive care.
Bondi beach has also reopened for swimming and surfing but the sand will remain closed given the area boasts the highest number of COVID-19 cases in Australia.
Waverley Council mayor Paula Masselos said the waters at Bondi, Bronte and Tamarama beaches would reopen on Tuesday "for the sole purpose of exercising". Access to the water is strictly via designated entry and exit points.
Ms Berejiklian reminded all NSW residents they should stay home upon the first sign of any respiratory symptoms.
"If you have a sniffle, you shouldn't be visiting anybody - you shouldn't be out of your house frankly, you should be getting tested. We want to stress these opportunities to visit others in a household come with qualifications," Ms Berejiklian said.
© AAP 2020