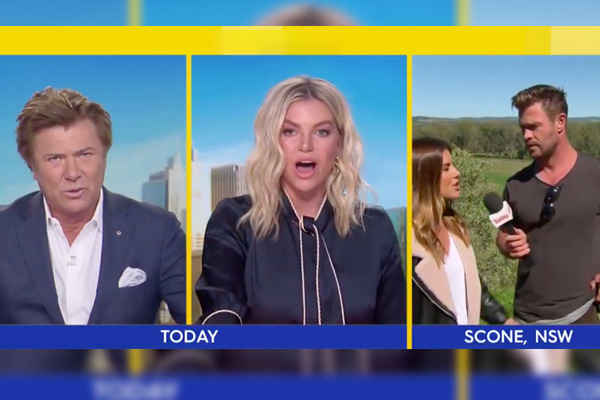 The God of Thunder himself, Chris Hemsworth, made a surprise appearance during a weather report on The Today Show on the weekend, shocking hosts Richard Wilkins and Rebecca Maddern.
Watch the clip below:
We get some help with weekend weather from the God of Thunder himself, Chris Hemsworth! #9Today pic.twitter.com/YsfCxADIiD

— The Today Show (@TheTodayShow) September 11, 2020
During the segment, weather girl Lauren Phillips tells viewers she's in Scone, NSW and explains she's in the horse capital of Australia. Phillips then turns around to look at some horses in the paddock behind her when a familiar face appears.
The familiar face is revealed to be no other than Australian actor, Chris Hemsworth. He interrupts and says:
"Heard you talking about looking for some horses, there's a bunch down here actually which I've noticed in the paddock. What are you doing?"
Rebecca Maddern is seen gasping as she realises who the surprise guest is. In response to Hemsworth, Phillips says:
"Well, we're doing the weather for the Today Show and I often get teased about not having the best presenting skills or pronunciation, wanna help me out?"
Whilst reading out the weather for the nation, Hemsworth is asked by Phillips:
"What about a shout out to our friends in Melbourne who are locked down?"
Hemsworth, a fellow Melbourner himself, tells the rest of Melbourne to get their brollies out:
"Hello to all my friends in Melbourne, I'm from Melbourne, I'm a Victorian but that rain, get your brollies out I reckon."
Pleased with his weather reporting skills, host Dickie tells Hemsworth he's booked and that they'll see him the same time tomorrow.
Phillips then says to Hemsworth:
"Aw, I've lost my job! They're kicking me off, you're on tomorrow morning."
As the segment ends, Maddern, still shocked says:
"OH MY GOODNESS ME… Wow… What about that, Chris Hemsworth… Did that just happen? He just read the weather on Weekend Today. My Year Made! Wow, I'm a bit hot!"
Weather Girl, Lauren Phillips started off her presenting career on 'Postcards', and started her weather presenting on the Today Show in 2020. She's also hosted shows such as Kids WB, Helloworld Travel, Getaway and A Current Afair, has enjoyed roles on radio and is an ambassador for brands such as Mazda and Carroten.
She cheekily posted the segment on her Instagram with the caption:
Get out of me shot, mate. 🙄 @chrishemsworth

When your mate wants to do work experience with you but then the hosts like him better. 🤣 Surprise @richardwilkins @rebeccamaddern Unfortunately you'll have to keep me. @thetodayshow
Image: @TheTodayShow / Twitter