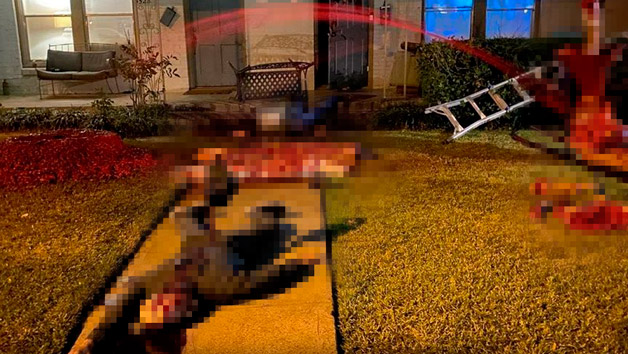 A Halloween lover's home display that was too realistic went viral last year when passers-by called the police after witnessing the gruesome scene. Steven Novak, the man responsible, is back for another year with a scene just as scary despite complaints from crazy neighbours.
The Texas man, who has been decorating his home for Halloween for the past seven years caught the attention of neighbours and passers-by last year, which prompted the visit of police officers to Novak's home. In the too realistic scene, the artist had several bloodied bodies placed in his front yard, with one even on the roof. With blood and severed body parts everywhere, it's understandable why some people would have thought it was a real crime scene!
The Dallas Police Department were called to the home after complaints were made about the display. Luckily Novak said there was no citation and police told him he wasn't doing anything wrong. He even said, "They took pictures, they thought it was great."
This year, Novak is back, documenting his "Dallas Massacre" scene on social media for his new fan base he's developed from last year's spectacle.
Novak has shared his process this year from making his DIY fake blood, making guts and body limbs and also a scary projection on his window. This year's highlight is a bloody wood chipper fountain that shoots blood across the yard.
In an interview with CBS, Novak says the Halloween display will be up until Christmas and jokes:
"Just put some hats on the bodies, maybe dress the guy on the roof as Santa, put a sack up there spilling toys all over the place."
Fans have taken to social media to express their fascination, one person saying:
I am not really one for a lot of gore but I am totally fascinated by your gory yard. You did an amazing job of making a totally creepy gory scene.
About the creation of the gruesome display he says all the hard work is worth it when people come by and thank him, he says to CBS:
"So when I'm out here working and sweating and frustrated when things aren't going right, it just takes one person to come by and thank me and light up like they're looking at puppies, to make it totally worth it for me."
Image Credit: (@stevennovak / Instagram)