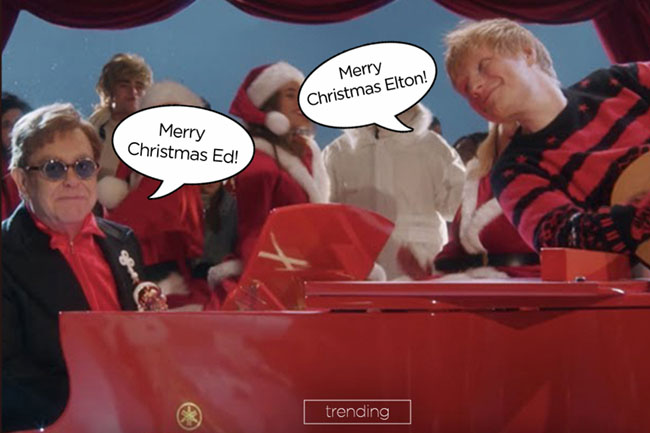 Christmas is a time for family, friends and the most wonderful songs ever. On repeat, of course, for as many days as possible in the lead up to Christmas Day.
If you haven't blocked your ears and run off screaming by now, then you're in for a treat!
We've compiled a list of the best new Christmas songs for 2021.
We've got duets, Christmas breakup songs and even a singing sweater!
(But even if you do hate Christmas songs, scroll down to the last entry... we've added a surprise anti-Christmas song just for you, which we think you'll love.)
So have a listen and get learning the words so you can spread some merry cheer at your next Christmas party!
Fa la la la la, la la la la!
Elton John and Ed Sheeran - Merry Christmas
What a dynamic duo. These two music legends releasing a Christmas song is going to be a hard act to beat in the Christmas charts.

ABBA - Little Things
Not only is ABBA is back with new music after 40 years, but this is their very first Christmas song!

Ariana Grande & Kelly Clarkson - Santa Can't You Hear Me?
This duet from pop sensations Kelly and Ariana hits all the high notes and comes from Kelly Clarkson's new Christmas album. They performed it live on The Kelly Clarkson Show's Holiday Special.

Kelly Clarkson - Christmas isn't Cancelled (Just You)
Kelly has released a new Christmas album, so there's plenty of new music from her this season. This breakup song brings the sass with the sparkle for those who couldn't get through another year of covid with their now former partner.

Mariah Carey, Khalid, Kirk Franklin - Fall in Love at Christmas
The reigning Queen of Christmas pop songs has a new release. Nothing more to say except have a listen!

George Ezra - Come on Home For Christmas
The first Christmas song from George, this is a reworked take on Charles Brown's Please Come Home For Christmas.

Michael Buble - The Christmas Sweater
Christmas doesn't officially kick off until a Michael Buble song gets played somewhere, and now we have a new release to mark the start of the festive season.

Norah Jones - You're Not Alone
Norah's released her first Christmas album and this is one of the songs from it.

The Lathams - Krampus
This one's for all the Christmas song haters - we still love you! And we reckon you'll love this song all about a terrifying Yule monster from folklore who chases naughty children with sticks.

Main image: YouTube/Ed Sheeran